Map to World Trade Center Metro Manila
Gil Puyat Ave. Extension cor. Diosdado Macapagal Blvd.
Pasay City 1300 Philippines
Tel: (632) 902-0000
Fax: (632) 902-000 ext. 513
Email: [email protected]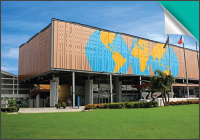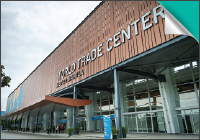 All tourist are welcome for a 21-days stay in the Philippines with no formal visa; only lengthier stays necessitate visa application.
The majority of international flights arrive at and depart from the Ninoy from the Ninoy Aquino International Airport (NAIA), which has three separate terminals, so it's important to note which one your flight uses. Philippines Airlines flights use Terminal 2.
World Trade Center Metro Manila is located at the Manila Bay area, an establish location for major conventions, exhibitions, entertainment and cultural activities. A astone's throw away from the Makati and Fort Bonifacio business districts, international and domestic airports, first-class hotels, shopping malls and Manila's central seaport, it is also conveniently accessible through the main thoroughfares.

» Excellent venue ad facilities that offer ease of ingress and engress with 11,300 square meters of spacious ground level contigouos space.
» Gated outdoor space of as much as 8,200 square meters.
» Pre-function Lobby space of 1,200 sqm.
» Drive in and out 40-foot container trucks to allow single-load / unload exhibition materials that reduce staging cost.
» Convenient and accessible floor boxes for water, electricity and communication connections inside hall.
» As much as 640 standard-sized exhibition booths all in one floor.
» As much as 550 motor vehicles inside the hall.
» Sophisticated set-up design within the expansive unobstructed hall interior of 10-meter floor-to-ceiling height.
» Allows up to 3-storey booth structure.
» Acoustic wall treatment and sound-proofed movable wall partition that allows for the simultaneous staging of multiple events.
» Fully redundant Power.
» Fine Dining restaurant with a seating capacity of 250 persons.
» Parking for 500 cars.
» Convenient and accessible location that assures visitor mileage.
» Only venue in the Philippines where Aviation , Agriculture , Irrigation and Heavy Equipment shows can be staged.

Placing Your Safety at the Heart of Our Events
Your health and safety are our utmost priorities when you Livestock Philippines. We ensure that all exhibitors, speakers, sponsors, and attendees can connect, learn, and do more business effectively, safely, and with confidence.
Informa has developed a detailed set of enhanced measures to provide the highest levels of hygiene and safety at its events, providing everyone with reassurance and confidence they are participating in a safe and controlled environment. All Informa events, including Livestock Philippines, will be run in accordance with the AllSecure standard, applying the full range of recommendations wherever applicable and possible. Check here the 10 priority commitments at all Informa Events.
On top of this, Livestock Philippines will run according to official government and local authority guidance and will strictly adhere to any imposed venue or location-specific regulations.
To know more about the latest travel guidelines by the Inter-Agency Task Force and the Department of Health (DOH), click the link below

Previously home to Indo-Malays and Chinese merchants, the Philippine islands were 'discovered' in 1521 by the Spanish, who christened the archipelago 'Felipinas' after their king of that time, Philip II. The Spanish were dominant for 333 years, until Asia's first nationalist revolutions, which began in 1896 and culmuninated in Philippine independence on June 12, 1898. The Americans then arrived and introduced their legal, educational, and democratic government systems. They turn, held sway until the onset of World War II in 1941, when the Japanese took over for four years, until the Americans returned, leading to lasting Philippine independence on July 4, 1946.
As might be expected from such a background of varied colonization, Filipinos are a racial mix of predominantly Malay stock, intermingled with Chinese, Spanish, American, and Arabic blood, as well as over 100 cultural minority groups sprinkled across the nation. Locals tend to be warm and welcoming toward foreigners of all stripes-Lonely Planet called Filipinos "the most ebullient and easy-going people anywhere," while Forbes.com ranked the Philippines as Asia's friendliest country.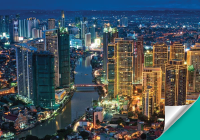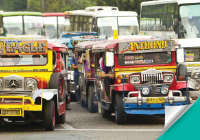 The Philippines teems with 76 to 78 major language groups and over 500 dialects, 8 of which-Tagalog, Cebuano, Ilocano, Bicol, Waray, Pampango, Pangasinense, and Hiligaynon or Ilonggo-are sponken by the majority of Filipino citizens.
However, there are only 2 national languages, and one of them is English, which has for some time been the medium of instruction for higher education. The other official language is Filipino, which, like any living language, is in process of evolution, from its base of Tagalog and variety of loanwards. An odd but traveler-friendly result of this is that many locals who may not speak Filipino are often quite fluent in English.

Philippine currency consists of pesos and centavos, with one peso (PhP1 or simply P1) being equivalent to one hundred centavos. Bills come in 10-, 20-, 50-, 100-, 500-, and 1,000- peso denominations, while coins are in 1-, 5-, 10-, and 25- centavo, as well as 1-, 5-, and 10- peso demoninations.
Foreign currency may be safety exchanged at hotels, bank, authorized money-changing shops, and most big department stores; anywhere else is illegal. Most hotels, resorts, and large restaurants and stores accept major credit cards such as VISA, Mastercard, and American Express. Do note that personal checks are generally not accepted, while travellers' checks are typically only recognized at hotels and major department stores.

By most foreigners, standards, cell phones are almost shockingly cheap in the Philippines, though it's worth noting that many models may not be useable or easily-chargeable in other countries. Prepaid cell phone lines are similarly inexpensive, though, so it's highly likely that purchasing a temporary phone for use while the country will be more economical than international roaming service. Globe, Smart, Bayantel, and PLDT are some of the most highly-regarded phone service providers.
The Philippine country code is +632. It's advisable to keep your embassy's or consulate's phone number and address with you at all times when travelling, and other important number you may wish to have include the following 24-hour hotlines.
Police & fire departments: 757 or 116
Emergency assistance: 501-650 or 501-728
Directory assistance: 114
National operator: 109
International operator: 108

Local time in the Philippines is GMT+8 hours, even if you travel to other provinces.

Anyone departing from Philippine airport – except for children under the age of 2 and airline crew members – must pay a terminal fee before proceeding to the boarding gates, amounting to PhP200 for domestic flights and PhP750 for international travel.

Philippines Typhoon Signal Guidance
To keep everyone safe, please click here to know what to do in case of emergency especially typhoon in the Philippines.