No matter whether you are visitor or an exhibitor, or what your business objectives are Livestock Philippines 2023 offers a relaxed but professional business environment to conduct meetings, network and seek new business opportunities.

» Discover new products and services – all in one place at one time.

» A who's who of the Philippines feed and livestock industry – network face-to-face with industry peers.

» Attend the free conferences and seminars to get valuable insights into some of the newest products, industry innovations, emerging trends and solutions.
The events has continued to attract over 250 exhibitors from 30 countries, covering more than 1,900 square meters of exhibit area, up by 800 square meters from the 2013 edition. It has won recognition as a global marketplace, networking powerhouse and the platform of choice for the feed, livestock and meat industries, making it a must-attend event in the international feeds and livestock industry calendar.
1. Establish contacts with over 250 of the world's leading companies in one location.
2. Attend the strategic high-level conferences held in conjunction.
3. Learn about the latest state-of-the-art innovations in feeds and livestock industries.

Top 5 visitors by type of organisation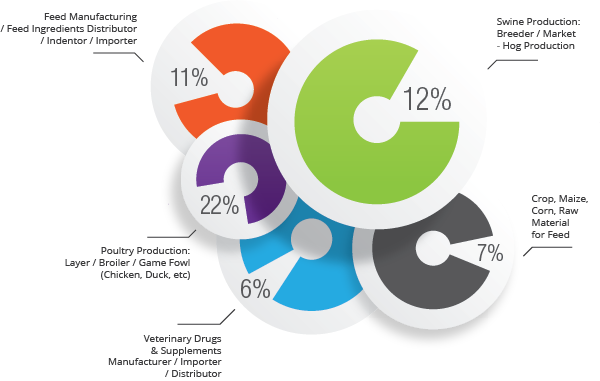 3 top dominant professions of visitors